Also at 50th anniversary celebration Frigo Group focuses on employees
The Frigo Group celebrates its 50th anniversary this year. With the decision to build a cold store in Nieuw-Vennep, Hein van Elderen laid the foundations of the logistics service provider in 1973. In celebrating the family company's anniversary, all employees will take centre stage on 7 and 8 October.
"You have to treat an employee the way you want to be treated yourself," was one of Hein van Elderen's famous sayings. Supported by his wife Ank, the enterprising and socially-minded arable farmer decided to build a cold store in 1973. After all, he did not like the fact that he could not store the celeriac he grew himself. It was not long before Van Elderen also started renting out pallet spaces to other companies. As the company grew, so did the number of employees. Within the Frigo Group, they have always occupied a central position. The low staff turnover and the large number of long-term contracts illustrate the atmosphere and the good terms and conditions of employment within the family business.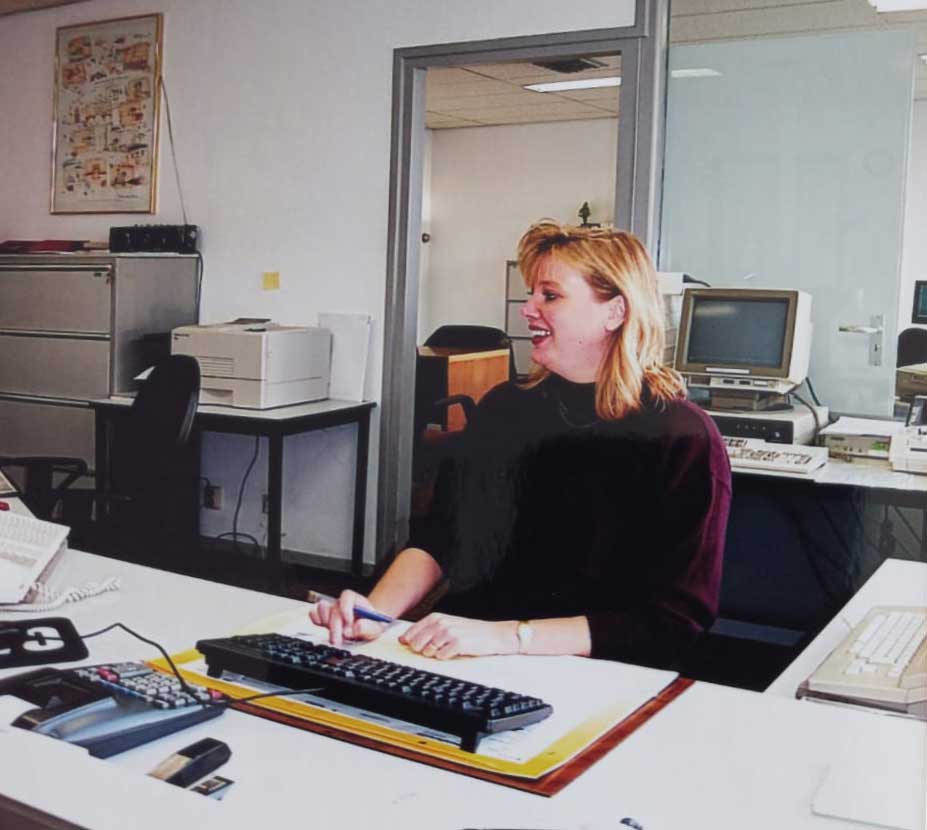 Much changed
Saskia Enthoven knows all about it. Eleven years after the first pile of the coldstore in Nieuw-Vennep went into the ground, she joined Van Elderen as an administrative assistant in 1984. "I was eighteen and found it quite exciting, but after talking to Mr Van Elderen I immediately felt at ease, with the family and within the company," she recalls. "That has actually always remained the case. It was like a puzzle that fitted together immediately."
Saskia was mainly concerned with stock administration for a large customer. "In the beginning, we did that using a telex. We also used typewriters back then. In that respect too, of course, an awful lot has changed over the years."
Two frozen chickens
Born and raised in Lisserbroek herself, Saskia married arable farmer Pieter Enthoven from Nieuw-Vennep. Coincidentally, the first Frigo freezer house was built on land Hein van Elderen bought from his family. "In 1990, the arable farm and my husband and I moved to Zeewolde," Saskia looks back. "That marked the end of my first employment at Frigo. When, due to circumstances, we returned to the Haarlemmermeer in 1996, now with two sons, Hein van Elderen was soon on our doorstep. I'll never forget it: as a Christmas present, he brought two frozen chickens with him. And he had a question: whether I wanted to come and work at Frigo again."
Saskia did, and she didn't regret it. "The company was a lot bigger and more modern by now but for me it was a warm bath. Colleagues, customers… It was as if I had never left."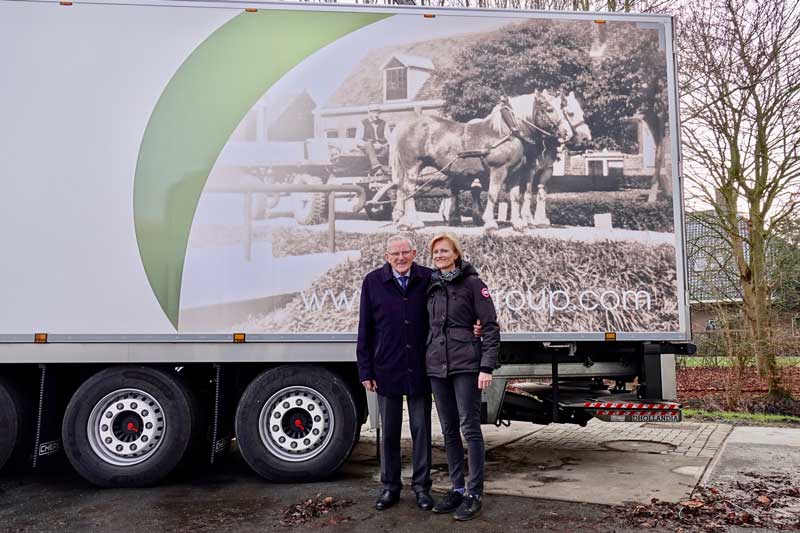 Change of guard
During this second tenure, Saskia experienced a change of guard within the management: Hein van Elderen handed over the baton in Nieuw-Vennep to his daughter Margreet van Elderen in 1999. Anno 2023, she is still CEO of the Frigo Group, which consists of the 120,000 m2 cold store in Nieuw-Vennep and three companies in Geldermalsen: Frigo Group Transport, Frigo Group Logistics and FGT Warehousing. "Margreet has continued to run the company in the spirit of her father," thinks Saskia. "The employees are central and given as much responsibility as they can handle. I myself enjoyed being one of the organisers of the company outing every year, which is held to make the team spirit even better. Together, we experienced very fun activities and parties."
From 2007, Saskia performed every conceivable job in Hein and Ank van Elderen's home three mornings a week, a job she later went on to combine with her own pedicure practice. "As the couple grew older, I also increasingly acted as a carer," she says. "I enjoyed and loved doing that. Anyway, I look back with great pleasure on the years I worked for the Frigo Group and the Van Elderen family."
Vital company
More than four months after his wife Ank, Hein van Elderen passed away on 28 October 2022. Since then, Saskia has focused entirely on her pedicure practice. However, she will definitely be there on 8 October, when all Frigo Group employees and their partners will celebrate the vital company's 50th anniversary in Amsterdam with some activities, a dinner and a hotel stay. "I am looking forward to seeing and speaking to all former colleagues again. On the one hand, for me it is the end of a very nice era, on the other hand I am sure that my close relationship with the company and the family will never be broken."