Jubilee celebration Frigo Group makes employees and partners happy and proud
Frigo Group can take on another 50 years. That conclusion can be drawn after the jubilee party over the weekend of Saturday 7 and Sunday 8 October 2023, which made it clear that the employees have a very important place in the company.
Actually, the description 'anniversary party' does not cover the load in this case. All Frigo Group employees and their partners were treated to a weekend in Amsterdam, including an overnight stay at the Radisson Blue Hotel in the city centre. The programme included a tour of theatre Carré (pictured), a bike ride through the centre of Amsterdam, a canal cruise, a party evening with buffet aboard the Salon boat Prins van Oranje and a communal breakfast. "It was, in a word, great," truck driver Willem Vliegenthart looks back. "Thanks in part to a cool guide, my wife and I perhaps liked the bicycle tour of the city centre best. 'We're going to do that more often', we said to each other afterwards."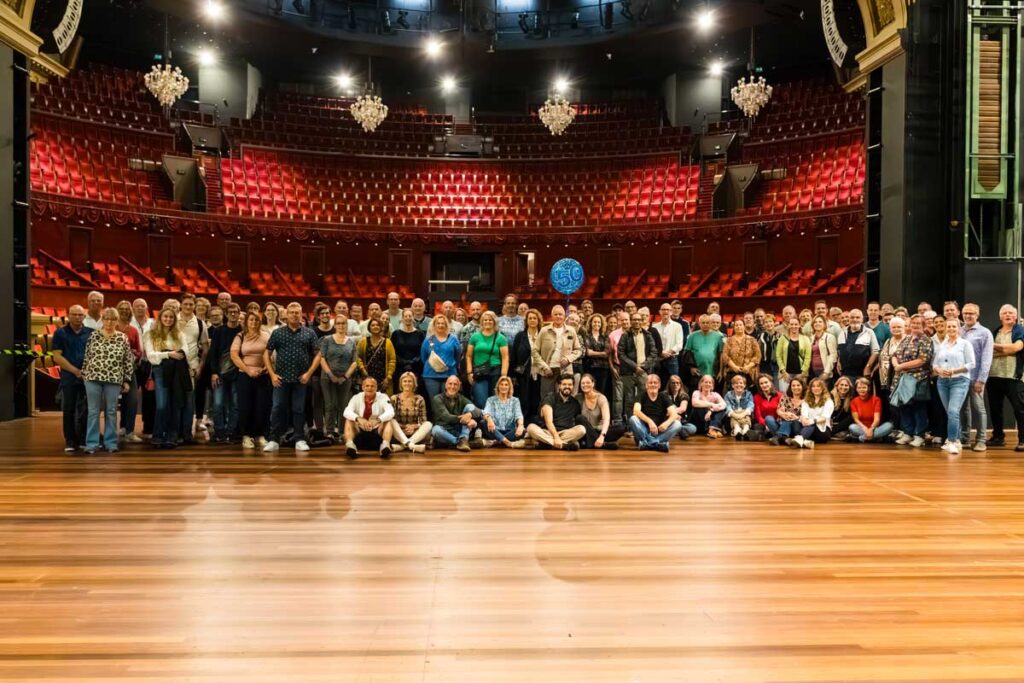 Tulips from Amsterdam
Debby Sloos (Customer Service) and her husband also enjoyed from the first minute to the last. "What really stood out, literally and figuratively, was the dessert buffet. On board the Prins van Oranje, it rose from the floor, while a singer sang 'Tulips from Amsterdam' in the meantime. Unforgettable."
While Willem and his wife were in bed a little after midnight, Debby and her husband were among the group who went for drinks at a café near the hotel. "To enjoy and talk for a while. All in all, I think we went to bed around 1.30am, tired but very fulfilled."
Bright future
At the Prince of Orange, six employees presented two mirrors with historic Frigo images and a gift voucher to CEO Margreet van Elderen. In a short speech, she then dwelt, among other things, on the death of Frigo founder Hein van Elderen and his wife and looked ahead to the rosy future of the frozen food logistics provider. "The anniversary party should above all make it clear that the employees are central at Frigo Group," assures Margreet van Elderen. "Judging from all the reactions, that has worked out very well. It will be hard to top a party like this."
Special milestone
According to Debby, there is no need to. "As a company, you only exist fifty years once. This was a very special party befitting such a special milestone." Willem adds that he not only enjoyed the anniversary party, but that it also made him proud. "Working hard as well as relaxing and celebrating together… At Frigo, we do it all. I'm proud to work for such a company."
About the Frigo Group
Together with Frigo Group Transport and Frigo Group Logistics, Frigo Nieuw-Vennep forms the Frigo Group, which has been the number one logistics service provider in frozen products since 1973. Within this family business, Frigo Group Logistics focuses on the complete logistic handling of deep-frozen and ambient goods flows and Frigo Group Transport specialises in conditioned transport and transport of, among other things, steel and machinery at home and abroad. With Frigo Nieuw-Vennep, Frigo Group has a cold store in Nieuw-Vennep with a capacity of 22,000 pallet spaces.