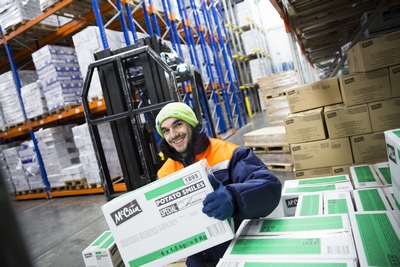 Receipt, storage, dispatch
Upon receipt, our employees inspect all goods for quantity, temperature and quality. If requested, they will also take samples from pallets. If required, we will also provide the pallets with an SSCC label. The Warehouse Management System (WMS) indicates the location at which we will store the goods. If a customer has given instructions for loading, our employees select the desired products in the warehouse and ready them for loading. We can provide the pallets with a destination label. To provide the widest possible range of excellent services, every Frigo facility offers its own customer-specific solutions such as:
shock-freezing. Each of our facilities has a number of freezing tunnels able to reduce the temperature of products to -240 Celsius within 24 hours.
orderpicking at the consumer unit and package levels
assembly of groupage loads
handling containers. We load and unload containers on a daily basis. These activities include sorting loose materials with different lot codes by pallet, film-wrapping, grouping and labelling. Loading can be done either individually or on slip sheets using a push-pull system.