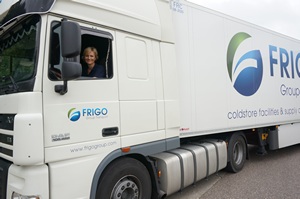 As an independent 3PL provider (Third Party Logistics Provider), Frigo Group Logistics directs its efforts to the entire range of logistical operations involved in handling frozen and ambient flows of goods. Because we manage the receipt, storage and dispatch of goods as well as orderpicking and transport (both domestic and international), we can offer our customers a total solution. This greatly simplifies the work of everyone involved. Our customers can also enjoy a cost advantage because we are in a position to combine the goods flows of various customers.
For customers who store goods in our cold stores, as well as ones who do not, we make daily deliveries in the Benelux countries, Germany and France. Frigo Group Logistics specialises in the scheduling of transports to and from Spain and Portugal and thus employs Spanish-speaking planners. We can satisfy all your preferences all year round. You can also call on us for transport to Eastern European and Scandinavian countries. We work for both multinationals and SMEs.
As a supply chain manager, Frigo Group Logistics selects its transport companies very carefully. They not only have to satisfy our criteria for quality, but they also have to operate in accordance with our company philosophy. Working with regular transport companies provides even more benefits. These are people who know exactly how they should handle and deliver your product. As a customer of Frigo Group Logistics, you actually see the same faces over and over again. Our customers really appreciate this.